Nagoya city is one of the three biggest cities in Japan and is located between Tokyo and Osaka.
Nagoya Airport is the main airport for business aircrafts with a distance of about 20 minutes by car from the center of Nagoya.
In addition, globally important manufacturing sites related to the automobile and the aerospace industries are concentrated around Nagoya Airport.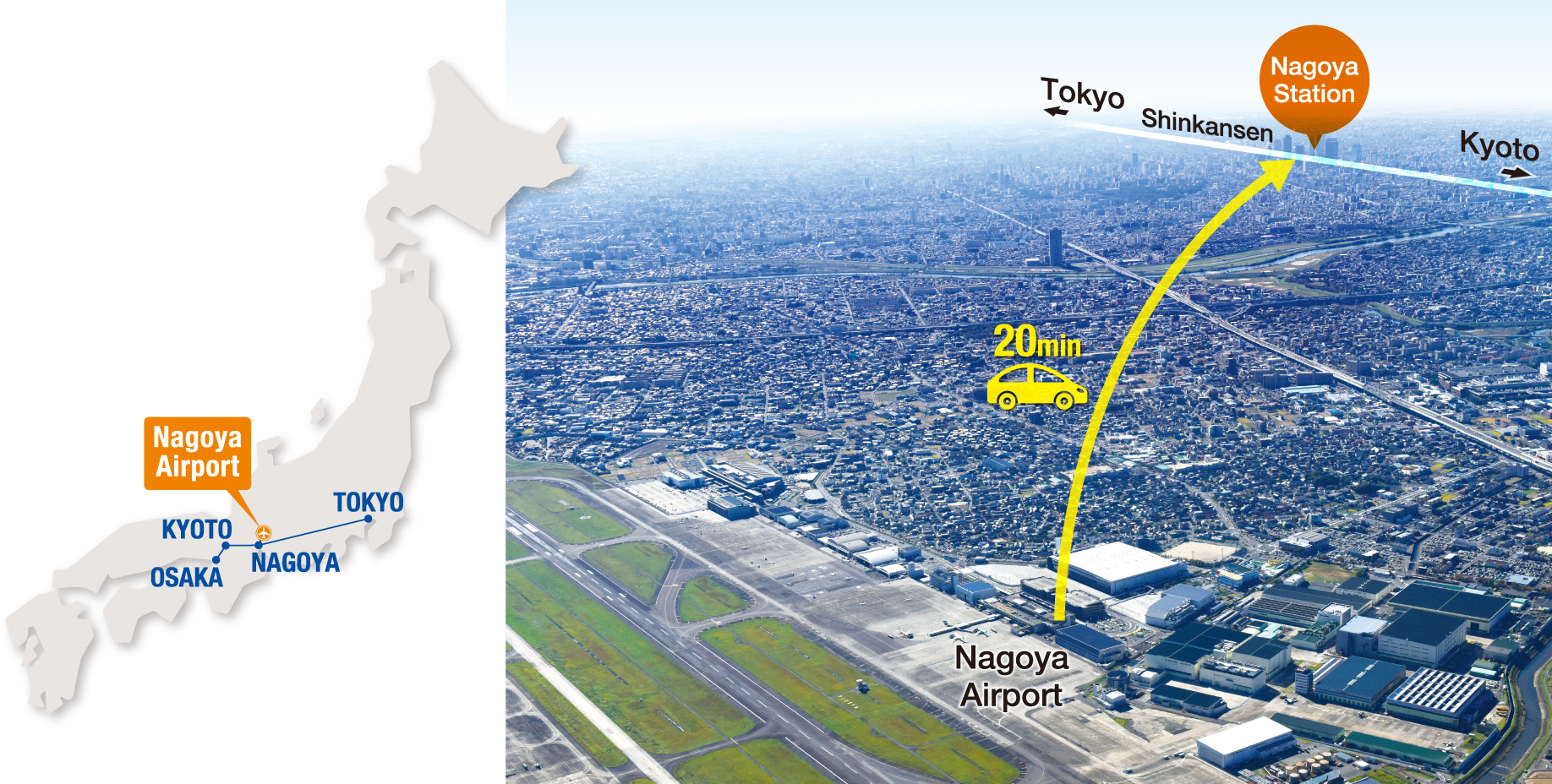 Administrator

Aichi Prefectural Government

Designated operator

Nagoya Airport Terminal Building Co., Ltd.

Location

Toyoyama Town, Aichi Prefecture

Reference and elevation

35°15'18" N and 136°55'28" E. 14 m (45.9 ft) above sea level

Airport area

171 hectares (422.5 acres)

Runway measurements

2,740 m (8,989.5 ft) x 45 m (147.6 ft)

Runway strength

Single wheel load = 43 metric tons

Runway true bearing

N27°34'41" W

Apron

22 hectares (54.36 acres)

Aviation lights

Aviation lights Precision approach

Aviation security radio facilities

VOR/TACAN, ILS

Start of service

February 17, 2005

Operating hours

07:00 a.m. -10:00 p.m.

Air traffic services

Terminal air traffic control services and ground-controlled approach services
Contact
Airport Administrator:
Civil Aviation Administration Division, Bureau of Construction, Aichi Prefectural Government
3-1-2 Sannomaru, Naka-Ku, Nagoya, Aichi 460-8501 Japan
E-mail: kouku[a]pref.aichi.lg.jp
https://www.pref.aichi.jp/soshiki/kouku/bj-e.html
Ground Handler:
Aero Asahi Corporation Sales Division, Central Japan District
Nagoya Airport, Toyoyama-cho, Nishikasugai-gun, Aichi 480-0202 Japan
Tel: +81-568-28-0616   Fax: +81-568-29-1116
E-mail: bj-support[a]aeroasah1.co.jp
https://www.aeroasahi.co.jp/
Photo credit: Aero Asahi Corporation, Toyota Motor Corporation, Mitsubishi, Ajrcraft Corporation